I'm so excited about all the people in my life - blog friends and "regular" ones - who have just had new babies or announced pregnancies. And there are a bunch right now!
Speaking of new babies: I shared some of my
must-haves
for new babies in January, but after writing that post I kept thinking of other items that I really should have included, especially ones that are really cheap (most under $10) but that would be cheap at twice the price - they make life soooo much easier. So here are 5 really inexpensive baby essentials: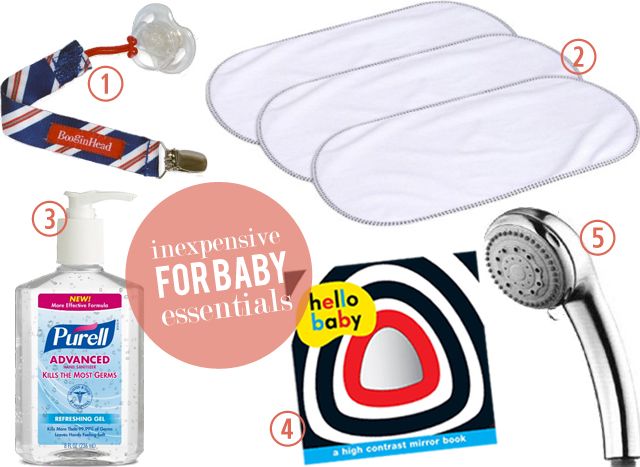 1.
pacifier clip
: after one fussy time in which Hendrik's pacifier hit the floor about 6 times in 2 minutes and I almost freaked out, I got a couple of these pacifier clips to keep it attached to him. No more bending over to pick the thing up and then trekking over to the sink to wash it off... an absolute must-have.
2.
changing pad liners
: when we brought Hendrik home from the hospital, we quickly realized how often those cute changing pad covers are going to get peed on (and worse), and I was so glad I had thought to pick up a pack of these liners - you can swap out the dirty ones and not have to wash the cover every single day.
Very
handy.
3.
hand sanitizer
: definitely a good idea to have several bottles of these around the house. There's lots of hand washing with a baby around, so it's convenient. Plus having one by the door to help visitors get rid of their germs before getting their hands on that baby made me feel better about reducing likelihood of him getting sick (because a newborn cold is no fun!).
4.
high-contrast book
: so newborns really don't have their eyes open much, and when they are, those eyes aren't seeing a whole lot. But as he got to a couple of weeks old, and started to be able to focus his vision a little it was so great to have this high-contrast book to prop up next to Hendrik - those little baby eyes can focus better on bold shapes/colors.
5.
hand-held shower head
: we already had one of these installed in our main floor bathroom because it's handy for dog washing - and it turns out to be really handy for baby washing too. It makes filling his little tub (
this one
, which we love!) easy, plus it's nice to spray over him occasionally during the bath to stay warm and of course works great for rinsing too. Or for when the diaper blowout is bad enough that he just needs to be hosed off.
Before I had my own, I loved picking out cute little baby things to give as gifts (like
these
), but now with experience, I've gone more practical and send some of the above instead. Not as glamorous, but they're useful things you might not think to add to your baby registry!
(Also, for my pregnant friends, here are some more things I'd classify as essentials:
first trimester
|
second trimester
|
third trimester
|
"fourth" trimester
)