When I like something, I tend to get really into it, whether it's a favorite meal I eat for weeks straight, a new favorite author whose books I read through all in a row, or a favorite outfit I wear to death. Here's what I keep going back to in five categories lately: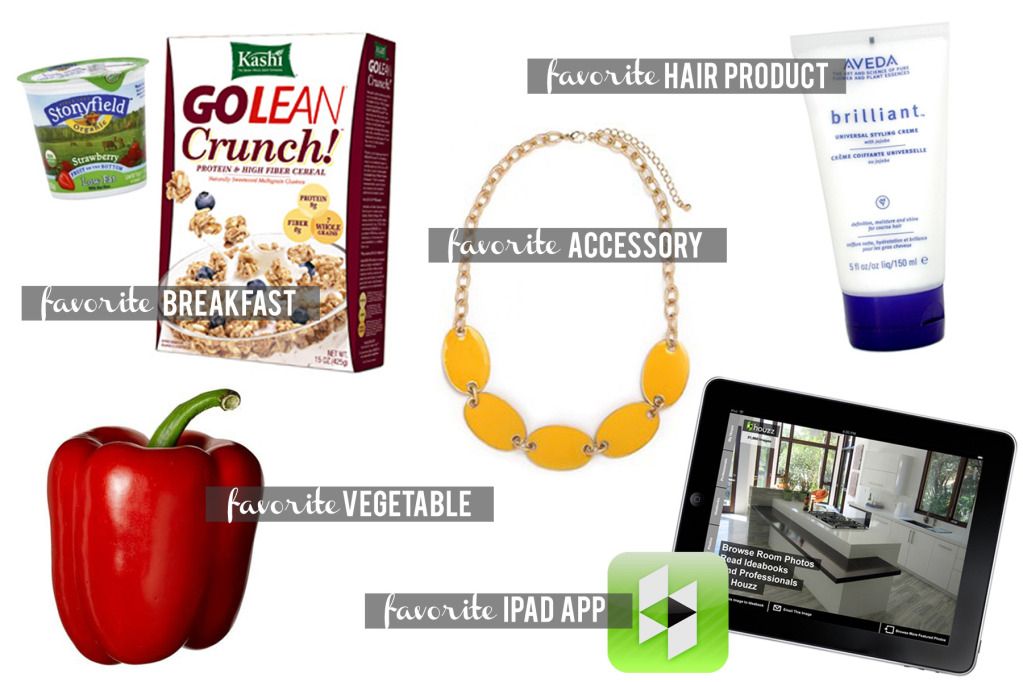 1.
breakfast
: I've been eating Stonyfield strawberry yogurt + this Kashi cereal almost every day for months, and I don't see stopping anytime soon. Reasonably low on calories but lots of protein and fiber to keep me going all morning, plus it is yummy. I've been tempted to start eating it for lunch too, I like it so much.
2.
accessory
: I had a
Bloomspot
coupon for half off jewelry from Baublebar, so I ordered a couple necklaces recently, and now I want to wear this
lemon elliptic bib necklace
with pretty much everything.
3.
hair product
: my
mom
gave me some of this
Aveda brilliant styling creme
at Christmas, and it is one of the best smelling hair products ever (and makes my hair nice and shiny). I use it daily before blow drying.
4.
iPad app
: we're thinking about redoing our kitchen floors since I've never loved the tiles and some of them are cracked anyway (which is leading to a discussion of replacing counters, which means backsplash too, and hey, maybe we should paint the cabinets!), so I downloaded the free app from
Houzz.com
to browse for inspiration photos. Hours of browsing later, I've started looking at bathrooms too - uh, oh.
5.
vegetable
: I've also been going through a whole lot of red bell peppers lately. I've been working on getting extra vegetables into my diet, and peppers are easy to just grab and eat when I keep them pre-sliced in the fridge - plus I always like something crunchy at lunchtime, so these have upped my midday veggie intake quite a bit.
Anyone have favorites in these categories to suggest for when I move on from my current ones, as I inevitably do?