It's so nice coming home from a week of travel to my favorite doctor-in-training and dog - and my favorite pillow! Which got me thinking about current preferences in five
more categories
. What are you loving lately? Hope you enjoy some of it this weekend...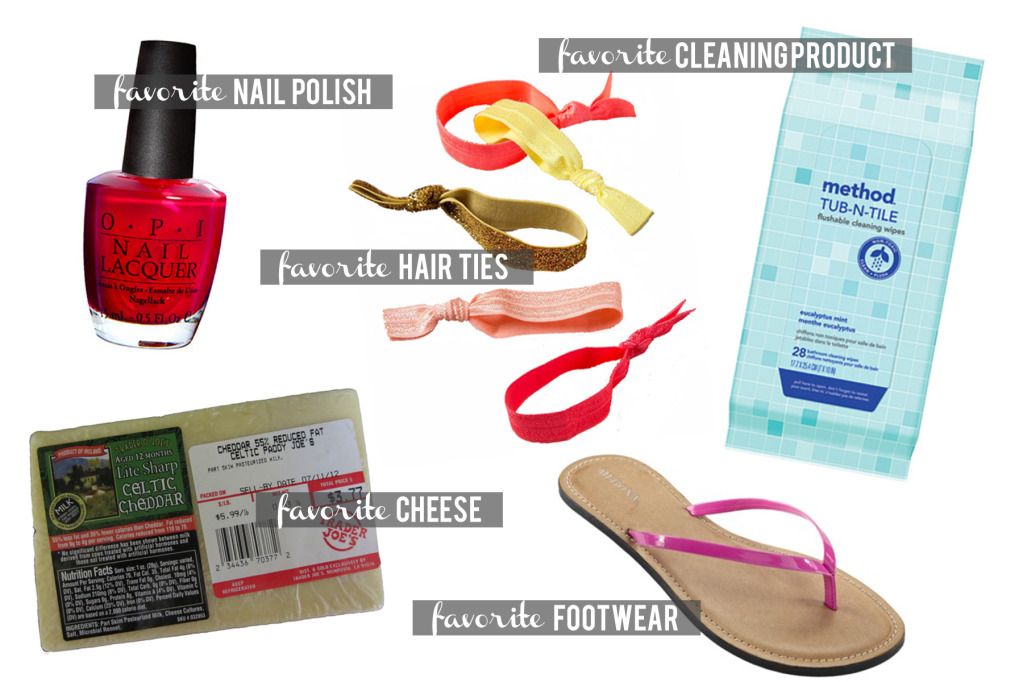 1.
nail polish color
:
OPI Big Apple Red
. My mom & I discovered this color in May when we got pedicures, and I loved it so much I had it put on again for my next one. It's just the right kind of red - not to bright, not too dark, professional enough for work travel but still snazzy.
2.
hair ties
: when I was buying my
new favorite bowls
at Anthropologie, I came across these fun
knotted hair ties
, and I love them (have since spotted plenty of cheaper-but-just-as-cute options on
Etsy
). Great for these hot days when a girl can't contemplate any hairstyle beyond a ponytail or a braid - these add just a little extra bit of fancy.
3.
cleaning product
:
Method flushable bathroom wipes
. Cleaning the bathroom is no fun, but I find that fairly frequent wipedowns of the sink/counter make the process a little less painful - so I keep these handy wipes under the bathroom sink and give it a quick swipe while I'm brushing my teeth. They make for fast cleanup, smell nice, don't have yucky chemicals, and are flushable too.
4.
cheese
: Just like with
breakfast
, I'm pretty happy to eat the same thing for lunch every day, and I'm even happier if it involves cheese. My new favorite is this Celtic lite cheddar from Trader Joe's which has all the sharp cheddar taste I like with less fat/calories. And I love to eat it on
pretzel crisps
.
5.
footwear
: I don't tend to wear flip flops for anything but the beach, but
these ones
from Target are nice enough to pass as real footwear in my opinion (plus comfortable and inexpensive!). And it's so stinking hot out that these are my shoe of choice - keeping things as minimal as possible!