Many moons ago - again, how did it get to be December already?! - I requested opinions on
which color
blazer I should buy, and before that,
which size
bubble necklace. Consensus won out in both cases: I went with the navy blazer rather than fuchsia, and the smaller version of the necklace instead of the original.
And you all were right! I love them both and have found them very versatile and useful additions to my wardrobe. While the necklace has been seen around here a lot (
ad nauseum
perhaps, but I can't help it if it goes with everything!), the blazer hasn't made it into as many pictures. So here they are together in a recent outfit perfect for running errands on a mild late fall day.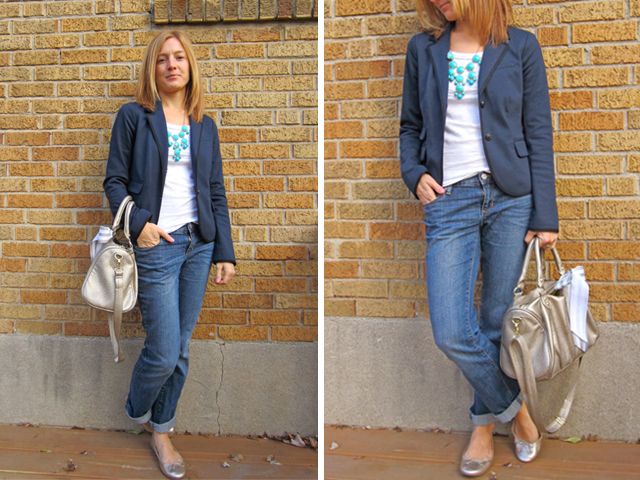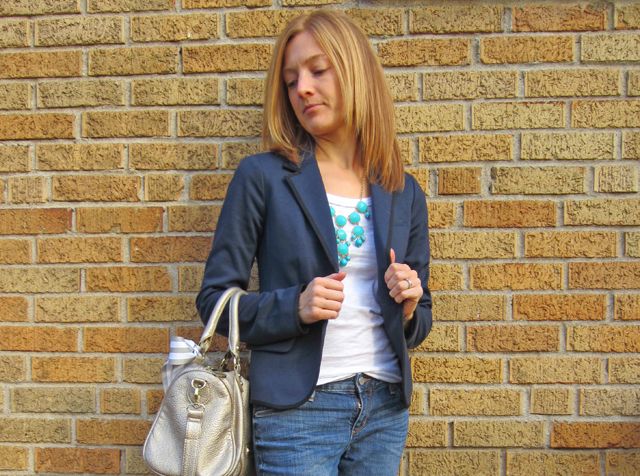 blazer: Gap; jeans: BR (similar); necklace: JCrew Factory; tee: JCrew (similar); flats: Old Navy
I should add that weird as it feels to be wearing rolled jeans, flats, and no coat as we go into December, I'm perfectly happy to keep doing so... Blazer weather is great, and Cincinnati is pretty great for blazer weather. I didn't really have any in Michigan because it seemed like there were so few days that it was the right temperature for one - and trying to get one under a winter coast is a bit of a beast. This classic piece is worth having here though!
Sharing on Pleated Poppy's What I Wore Wednesday.