Lately all kinds of people, from blog friends to old high school classmates and college roommates to residency colleagues, have been having babies or announcing pregnancies. I was going to say there must be something in the water, but then I remembered we're just at that age when this is normal. Weird.
So as I was putting together a gift for the little guy born to one of Peter's co-residents last week, I made a little roundup of some of my go-to baby gift ideas.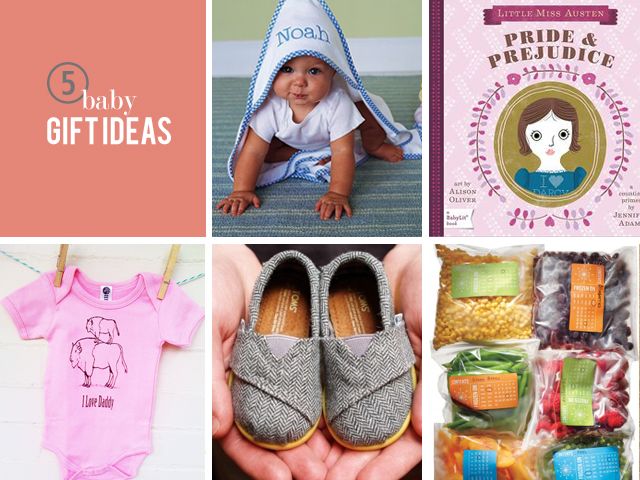 1.
Personalized hooded towel from Pottery Barn Kids
: these gingham-bordered bath wraps are so sweet, especially with personalization, and as a bonus, Pottery Barn usually offers free shipping on them.
2.
Pride & Prejudice board book
: for literary friends, this is an
adorable
gift. Little ones can learn to count with super cute P&P illustrations like 2 gentlemen, 4 marriage proposals, and 5 Bennett sisters. They also have a
Jane Eyre
version and a bunch of classics coming soon.
3.
A screenprinted onesie
: a nice way give something fun and unique; you can find them at a local shop or on Etsy - we picked up one of these for gifting well in advance at the
I Heart Denver Store
(also available on
Etsy
) last summer because they were too cute to pass up, and we thought this one (in green) would be great for Peter's colleague and his new baby boy.
4.
Mini things
: also in the category of irresistible is mini versions of anything, especially shoes. How about these
tiny Toms
? Gah that's cute.
5.
A freezer meal
: a lasagna or container of chili that the new parents can heat up now or stick in their freezer for later is a nice touch with any gift. (You could even download some freezer labels
like these
to make your package fancier.)
Here's hoping I get that sweet new baby in my arms this weekend!