Now that I've gotten past some work deadlines I've finally had enough free time to catch up on my favorite show: Downton Abbey! I was so excited for season 3 to start, but all my tv watching lately has involved multitasking - but I was determined that I was going to be able to thoroughly enjoy these. And I did.
Here are some other current favorites around here: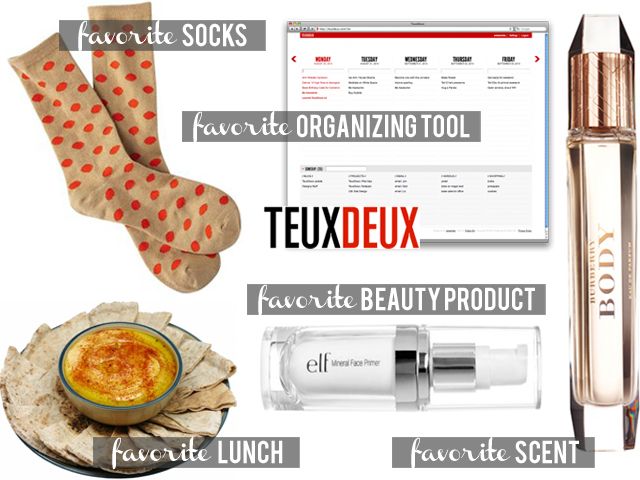 1.
socks
: I always seem to have one pair of socks that I pick from my drawer first as soon as they're out of the wash, and these fun polka dot ones I picked up at Target for about $3 are the current winners. They go perfectly with my current favorite
pants
, peeking out from my ankle boots. And they're just fun.
2.
organizing tool
: when I came back so busy from Christmas break I decided it was time to try this online list making tool to keep organized. I'm a big-time list maker with my sharpies and post-its, but since I'm at my computer all day anyway
Teux Deux
is so nice looking and handy to have open in my browser all the time, and I love that it moves my (inevitable) leftover items from yesterday onto today's list automatically. Plus still just as satisfying to cross things off of.
3.
lunch
: I've always enjoyed hummus, but once I discovered my new favorite variety - Trader Joe's Mediterranean - it's become my go-to lunch (or dinner when Peter's not around). I just warm up some pitas in the toaster and dip them right in. Probably not my most polite habit, but I can't get enough.
4.
beauty product
: so I'm a little makeup stupid, but this
mineral face primer
seems like a smart move. When I heard that using a primer would make your face into a smooth canvas to give makeup longer staying power, I thought this $6 version from elf (picked up at Target, where else) would be worth a go. I'm not sure how well it really keeps the makeup finish, but goodness does it make my skin feel silky smooth. It's nice.
5.
scent
: last fall I decided it was time for a new, grown-up scent, so I went to Macy's, tried out a bunch, and came home with a sampler from Burberry. The
Body
perfume turned out to be my favorite, and (after some not-so-subtle hinting) Peter gifted me a full size for Christmas...
Happy Friday - hope you get to do some of your favorite things!
(Some previous favorites:
1
,
2
)