While I was (supposed to be) doing some Christmas shopping, I came across this fabulous outfit on a mannequin and fell in love with it for holiday events... and then went home with pretty much the whole thing (at 50% off!). Quite an impulse buy, but the skirt quickly
proved to be versatile
and totally worth it - though I wondered for a bit whether the sweater was a smart choice, whether it would get enough use.
And then I spent most of my Christmas break wearing it. So for this Friday, a recap of 5 ways I wore my kind of Christmas
sweater
: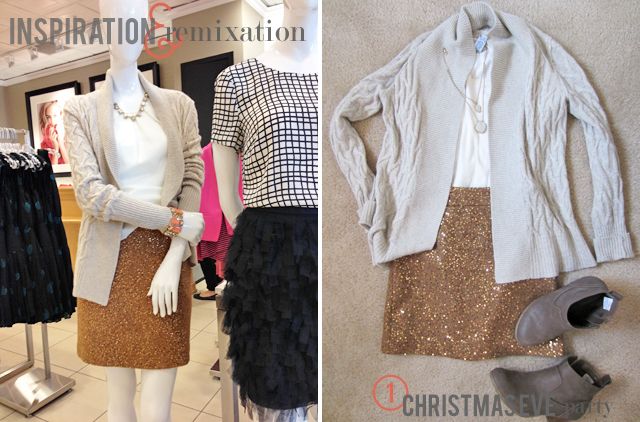 1.
Christmas eve party
: for our big extended family gathering I wore basically the inspiration outfit. It was just the right mix of fancy/casual and comfortable/holiday sparkly for dinner and our crazy present exchange game, if I may say so myself.
2.
Christmas morning
: with my favorite ponte leggings and striped tee, the sweater was the perfect layer for opening stockings and making brunch.
3.
Brunch with grandparents
: my grandparents took my siblings and dad out to an old favorite local place, and for the occasion I fancied up my jeans with a collar necklace and cozied them up with, of course, this sweater.
4.
Weekend family hangout
: we spent much of the weekend after Christmas playing Wii Just Dance and playing with puppies. With my staple green skinnies and chambray and my newly Christmas-gifted Toms, the sweater was just the thing for
5.
New Year's date
: did you know that most restaurants are closed on New Year's day? Well, when we planned a date night for January 1, we didn't... until we arrived at our restaurant of choice and found it and both its neighbors closed. And then called a bunch more before finding a place to eat. At least I looked snazzy in my red corduroys, leopard flats, and new variation on the bubble necklace.
So I think that remix answers the sweater question - and now I have five new go-to outfits for lounging and dates and everything in between in the winter months. A couple of shots of said sweater in action, mostly as an excuse to get a cute puppy or two in here: