I've always found dressing for work trips a bit difficult. I'm a lot younger than the professors I work with, so I definitely want to appear professional and be taken seriously. But on the other hand, our meetings don't require the formality of a business suit, and most international business professors are not exactly the most fashionable people I've met, so I don't want something overly corporate or dressy or out there. Now that I work from home, it's even more difficult to pack for work meetings, since dedicated "professional" wear has pretty much been phased out of my wardrobe.
For last weekend's travels then, I turned to my
Pinterest boards
- surely I could find inspiration for something with the right mix of professional and not overdressed, done all with regular, everyday wardrobe items? I think the answer is yes:
For Friday's meeting, I started with what I think was a winning combo of
this dress
and
this blazer
. Professional and pretty but still laid back enough with riding boots. For the next day, since it was just a couple of hours of meeting followed by traveling home - and was a Saturday after all - I wanted to go with pants... but denim isn't quite appropriate, and I don't have actual dress pants any more, so what to do?
Pick something from my collection of colored pants, obviously! With a blazer and a nice thin knit sweater, cords go from casual pant to a professional and put together look, but the outfit is still age-appropriate, stylish, and
me
. Since I'm not used to wearing business wear, it's nice to be appropriate but still feel like me when I'm at meetings - and we all know how an awesome outfit can up the confidence factor, an excellent thing for a work event.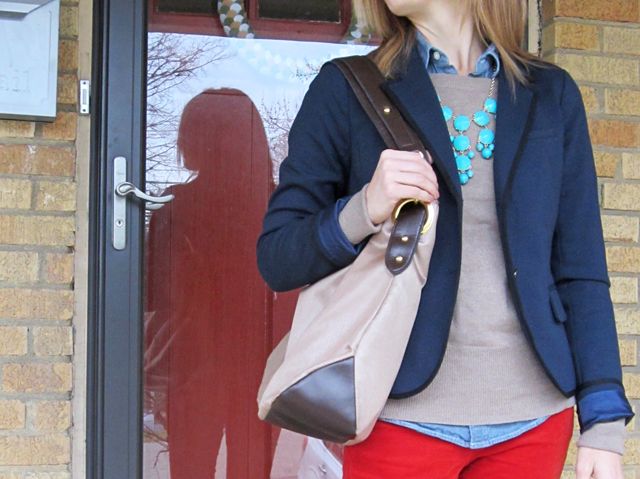 And I should add that the ability to so thoroughly recreate this outfit definitely shows it
deserves a place
on my
things to wear
board - it's me because it's made up of all items in my closet, but it encouraged me to wear them in a new way (similar to
this
previously done look but better, I say!): in a new combination and for a new (professional) use. Thank you, Pinterest.
p.s. if you're curious, there's a little explanation of what I do by day and by travel at the end of
this post
...
Sharing with Thrills for Frills
Copycat Friday
. Also: it's perfect timing with the blazer theme on the
Work Clothes, I Suppose
linkup (check out more blazer looks
here
) and with the outfit crush theme on
Friday's Fancies
.